May 2006 saw another successful weekend for the annual Bristol International Comic Expo with at least 2000 attendees (final figure to be confirmed). Congratulations and appreciation to event organiser Mike Allwood and his team for putting on the Expo which, as ever, had an upbeat friendly atmosphere throughout.

As always, it was a pleasure to be a guest and meet up with readers and friends old and new.

Next year's Bristol event is already booked for the weekend of May 12th-14th 2007 at the same venues.
Click here to visit the official Comic Expo website!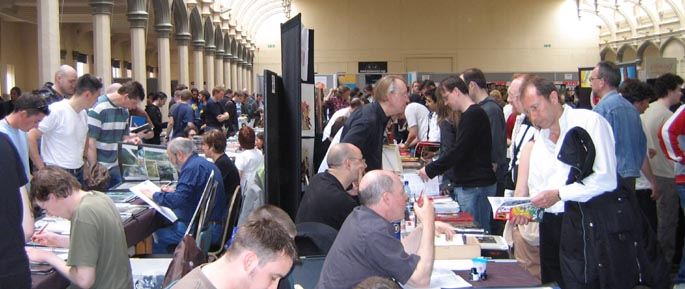 Above:

LUTHER AWKRIGHT creator Bryan Talbot (centre, standing behind table), V FOR VENDETTA artist David Lloyd (white shirt, at right of picture), and other comic creators,readers and exhibitors mingle in the informal atmosphere of the huge Empire & Commonwealth Exhibition Hall.

Above:

1: A busy crowd check out the exhibitor's tables on the Saturday afternoon.

2: Mike Collins, comic strip artist for DOCTOR WHO MAGAZINE sketching for the fans.

3: Leah Moore and John Reppion, writers of ALBION and WILD GIRL.

Above:

1: Rod Barzilay, publisher of SPACESHIP AWAY, the current home for brand new Dan Dare stories!

2: Geoff Senior, Simon Furman, and Andrew Wildman on the TRANSFORMERS panel.

3: The irrepressible Kev F Sutherland "out of The BEANO".

Above:

1: Frode, Johnny, and Kristina, organizers of the Norwegian RAPTUS comics festival.

2: Long established comics artist John M Burns (The Seekers, Modesty Blaise, Nikolai Dante etc).

3: Combat Colin fan Graham Pearce selling his small press comic SGT. MIKE BATTLE.

Above:

1: Signing and sketching duties for me and Doug Braithwaite, artist on DC Comics' JUSTICE.
(Photo © David Hine).

2: Designer/artist Rian Hughes and STAR TREK MAGAZINE editor John Freeman.

3: Small press publisher Sean Azzopardi and the creator of Derek the Sheep (BEANO) Gary Northfield.

Above:

1: New HELLBOY artist Duncan Fegredo chats with Charlie Adlard, artist of THE WALKING DEAD in the hotel bar.

2: JUDGE DREDD MEGAZINE artist Colin MacNeil shows off his work.

3: DANDY artist Dave Windett roams the exhibition hall.